We are all about creating high-value sustainable jobs that have a positive impact on Galway and the surrounding areas.
At the PorterShed, we are all about creating high-value sustainable jobs that have a positive impact on Galway and the surrounding areas. Helping to create tech jobs, especially indigenous tech, are a key part of our goal – and we are also big supporters of welcoming multinational companies to use the PorterShed office spaces as landing bases. We want companies to come here to start their ideas, to grow, and to scale before succeeding.
Whether we are providing space for start-ups to develop in, pointing founders in the right direction, or amplifying their wins, we want to see them succeed; their success is our success, and we love being part of their journeys.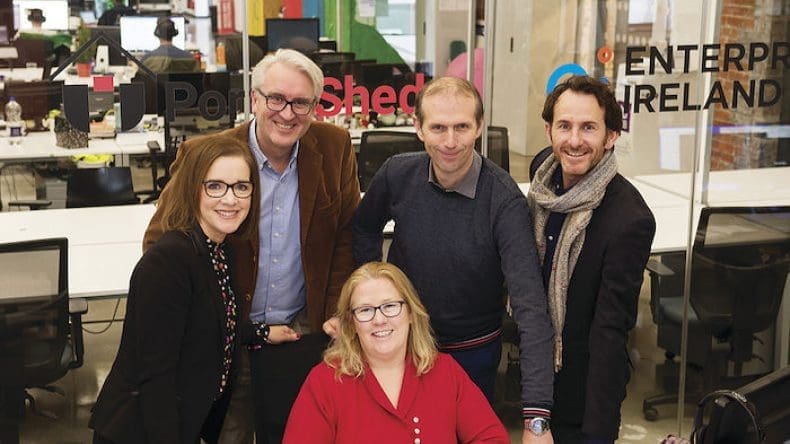 The original site mirrored the PorterShed's ambitions to breathe new life into certain parts of Galway city, and it all started with that first building. With a board in place (Maurice O' Gorman, David Cunningham, Niamh Costello, Conor O' Dowd, Kenneth Deery), all that was needed was someone to lead the way – and Mary Rodgers (CEO) was ready to take up the mantle.

Not long after that, Anthony Shaughnessy (Community/Production Manager) and Aoife Cheung (Office Manager) joined – and before long, Bob Rosenberg (Entrepreneur-in-Residence), Rosemary Gallagher (Programme Manager) and Trevor Murray (Content Marketing Specialist) were part of the crew alongside Amanie Issa (Community Associate).

The first building became home to companies such as Altocloud, Rent the Runway, Diligent, and many others over the years, and it paved the way for so many start-ups to come and grow in a start-up-focused environment.
In March 2022, another building was opened – PorterShed a hAon at Bowling Green – and it features state-of-the-art meeting rooms, privacy booths, and room for collaboration. It currently houses some 45 member companies, hosts hot-deskers on a regular basis, and is open for all manner of events, from tech-focused meet-ups to community events like art exhibitions.

In late October 2022, PorterShed a Do on Market Street was opened, providing yet more space for start-ups, scale-ups, and multinational companies to be based in the heart of Galway city. Formerly the Connacht Tribune office, it has been refurbished and reimagined as a space where start-ups, scale-ups, and multinational corporations can be based. Some of its high-end facilities include meeting rooms, privacy booths, meditation rooms, and more.

The PorterShed story is continuing to be written at a lightning-fast pace – and more importantly, the stories of the companies it helps are continuing, too. Since day one, the mission has been to help create high-value sustainable jobs in Galway – and more than 835 have been created since then, and there will be many more to come as the next chapters are being written.
KPMG Socio-economic Impact Report
For anyone looking to read the Socio-economic Impact Report that KPMG Ireland prepared, you can view the document in its entirety below.
The report was launched in 2022, and it confirmed that the PorterShed is having a significantly positive impact on the local and national economy.
Take a read of the detailed report to see the facts and figures behind the first five years of our journey!
Join the tech revolution and make valuable connections with like-minded innovators. Connect with us and elevate your workspace game today!