Keerthi Chandra Sekaren is a Product Owner with PorterShed member FleetOps.com, and she has been working in Galway for almost two years. A little bit of hustling and networking earned Keerthi a meeting with the company's CEO Liam Lynch in Galway prior to the pandemic. Though it didn't lead to anything straight away, Liam remembered Keerthi down the line and ultimately offered her a job with the FreghtTech firm.
Essentially, FleetOps is a truck transportation data business that builds enterprise software for trucking fleets. Their team is mainly based in Ireland – especially Galway – though they do have team members elsewhere.
Having previously worked for the likes of Ernst & Young and Neuroplex in India, Ireland offered Keerthi a fresh start. What's more, Keerthi had worked with Kerala Startup Mission (for AI, VR, AR spinouts) in India, and that led her to seek a similar space in Galway – and the PorterShed was the perfect fit.
Moving to Galway to join a start-up gave Keerthi the chance to make a breakthrough quite quickly, proving once again how different Galway is from bigger cities – the opportunities are there, especially for young people, to take on important roles and grow.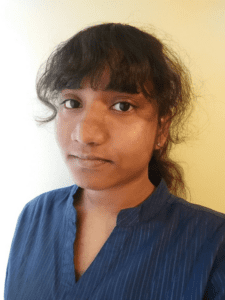 "It's very tough to break into a product role in larger companies," Keerthi explains.
"Especially at an entry-level, somebody needs to take a chance on you and say 'you seem like you have some potential, we're going to place our bets on you', and Liam was kind enough to give me a chance!"
Keerthi spends a great deal of time meeting with the product team, having discussions, planning, and thinking through the big picture before taking the idea to the design team, which is currently based in Ukraine.
Keerthi is often focused on considering the various strategies, approaches, and problems that need to be solved.
"I'm a visual person. I use Miro extensively. I have this whole braindump of stuff…all of my planning and thinking happens there.

"It's nice to have tools like this to help me think and have discussions. I do a lot of visual planning – wireframing – on things like Balsamiq.
Being in the PorterShed in Galway gives Keerthi the chance to focus on her work in a purpose-built start-up space, and there are some of her fellow team members in the Bowling Green location, which makes it even easier to brainstorm and collectively plan.
For Keerthi, too, it allows her to connect with the Galway community and remain involved in all that's happening throughout the Galway ecosystem.
"The PorterShed is so nice. You get to meet so many new people. It's like a moving space.
"It's been a godsend during the pandemic because I had no work-from-home set-up, and the PorterShed was wonderful. Like, I've actually never worked from home! And people used to say 'hasn't it been so hard working from home during the pandemic when you're working and your bed is right there?' and I was thinking 'I have never worked from home' – I'm actually privileged to say that," she adds.
By Trevor Murray
Content Marketing Specialist at the PorterShed
Email: trevor@portershed.com | LinkedIn | Twitter