Join a nationally connected network of entrepreneurs, and be part of the biggest tech ecosystem in the west of Ireland
At the PorterShed, we offer a range of amazing facilities, membership perks, and more to help you get the most out of your workday. Whether you'd like to make use of our high-end meeting rooms for a few hours, spend a few days hot-desking, or become a full-time member, we have something to suit diverse preferences.
Office Features
Member Supports
Member Perks
Office Features
Member Supports
Member Perks
"The PorterShed makes such a big difference. It provides a social atmosphere and the ability to really focus while upstairs and then to come downstairs to socialise in the kitchen. It provides that happiness at work where – even if you loved your job elsewhere, I don't think you'd get that same feeling just sat at your desk on your own."
We pride ourselves on offering a diverse suite of options to suit numerous needs – from those who want a dedicated desk for the month, right the way through to corporate companies who are looking for a base to build out their team in the heart of Galway.
Immerse yourself in our community by taking a dedicated desk for a month.
Choose to work the way you want to work with our hybrid plan, ideal for professionals who want 10 days o hotdesking to use throughout a month.
Grab a desk for the day and make yourself at home in the PorterShed…and enjoy all the free coffee you like!
Our corporate members can avail of this offer which gives their employees access to the PorterShed until late – with lots of other perks like meeting room access.
From €40.00
/month (ex VAT)
With three plans available, you can make working work for you. Some of the perks include use of the podcast studio, and more.
Join the tech revolution and make valuable connections with like-minded innovators. Connect with us and elevate your workspace game today!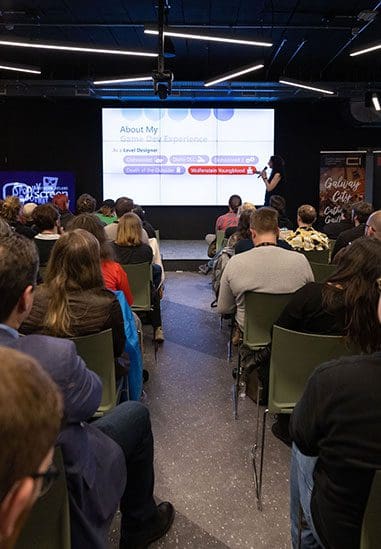 Our innovation space is a modern, high-end space where we can host all manner of events. Located right in the heart of the city at PorterShed a Do on Market Street, it is suitable for tech meetups, panel discussions, hearty debates, and group gatherings that focus on the latest tech developments. With ample space, it has the capacity to welcome some 150 people, seated, to enjoy their visit to the PorterShed. Featuring top-quality equipment such as the very best in audiovisual technology, it is equipped to make your event the most seamless and enjoyable experience for you and your attendees.
Our production studio is located within our PorterShed a Do building on Market Street. Our Production Manager is always available to ensure that any events that require the use of our production studio can be carried out with aplomb. We've ensured that the studio is kitted out with the best tech available, from state-of-the-art mixing desks, to great quality microphones, to high-end 4k cameras that will do more than justice to your event, no matter the occasion.