Our partners are really important to us. They support us and help us achieve our goals – and those of our members
What started with a concept back in 2015 when the Galway City Innovation District was first set-up, has grown into an amazing operation. Through consistent perseverance, the growth of amazing ideas, and the trust of so many, we have been able to move the dial in a positive direction. Not only that, but it has all been done thanks to the support and commitment of our partners and sponsors.
The governmental organisation responsible for the growth of Irish businesses is very important to the development of many indigenous companies. In that same spirit, the funding and backing of Enterprise Ireland has been incredibly vital to the success of the PorterShed. Through their financial assistance, the PorterShed has been able to expand and improve, from one building to the next. With that growth, the number of start-ups we help has increased, too, thus increasing the number of high-value sustainable jobs in the west of Ireland.
As our tagline 'backed by AIB' goes, we are so proud to have the Irish bank on board as our proud supporters. Their help, encouragement, and financial assistance have been immense in enabling us to stay the course on our mission to see start-ups succeed. We're delighted to be partnered with AIB, and their presence in Galway is such an important one for us.
Launched by SIRO and Vodafone in 2017, the GigaBitHub Initiative provides Gigabit broadband to digital hubs, enabling businesses and individuals to thrive and bring new opportunities, skills and people to areas across Ireland. In 2022, the Portershed became the 17th hub to join the initiative benefiting from enterprise-grade symmetric broadband.
The professional services giants are one of the 'Big Four', and we're delighted that KPMG Ireland are one of our sponsors. They have been behind us for many years, and it's been fantastic to have their support. They are always amplifying our success and helping us reach new milestones.
The Western Development Commission
As supporters of social and economic development in the Western region, the WDC are an incredibly important player in the overall ecosystem. Their many initiatives are key to fostering the growth of so many brilliant ideas. The PorterShed has worked closely with the WDC on many projects and we are truly aligned in our missions.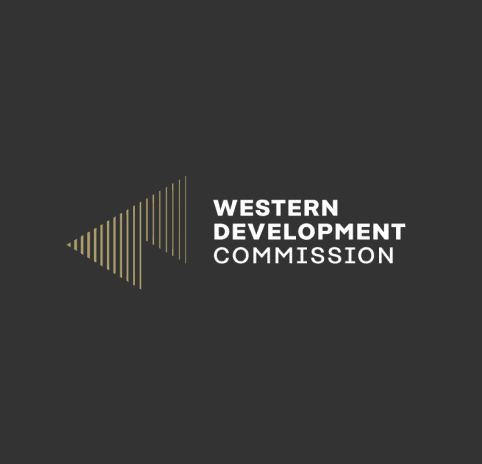 The PorterShed are a proud member of the Connected Hubs network. With some 300 hubs connected across the land, this resource is an amazing one for so many people looking for convenient and brilliant workspaces all over the country. This incredible resource makes it easy for anyone to book desks, meeting rooms, and more.
Join the tech revolution and make valuable connections with like-minded innovators. Connect with us and elevate your workspace game today!