Brian McManus sat down with the PorterShed to discuss his journey from an engineer to a successful YouTuber with over 3.5 million subscribers on Real Engineering – and why he feels the content creation field is one that is only just taking off.
Brian's Real Engineering channel launched in 2016 after Brian decided to leave his 9-5 engineering job. Since then, the channel has witnessed enormous success, been followed on by a sister channel, and Brian has also co-founded Nebula, the smart streaming service. Whereas once, Brian was being inspired by people making content that interested him, now he is the one leading the way, making in-depth, one-of-a-kind content that is consistently viewed millions of times around the world. 
When Brian started, there were very few outlets producing the type of content that Brian wanted to make and share with a large audience, which meant that he had to write his own playbook as he went. Today, there are hundreds of channels in the same category, but Brian is at the forefront of it all, producing, scripting, and editing detailed videos on space, energy, engineering, materials, and so much more.
Weaving intriguing narratives into each production, he's been able to hook readers with captivating content. 
Staying on top of his game
"There's an army of 15-year-olds that want our job, so you have to be continually improving your craft and making yours the best possible," he says when asked how he plans to remain one step ahead of the competition.
"Because anyone can upload on YouTube and there's a lot of talented people who now see the value in it, that it is a potential career option. You have to stay on top of your game."
Indeed, Brian has been striving hard to help ensure that what he's doing is cutting edge. Having invested a lot of time and energy into his craft and production values, he is certainly blazing a trail – especially when it comes to his video animation.
"Our animations are quite high-quality now. There were one or two news stations that took our footage from the Perseverance Rover and I assume they just thought it was NASA animation because they looked fairly similar to the quality that NASA were making," Brian explains.
One animation even included an easter egg of Grogu (more widely – if incorrectly – known as Baby Yoda) getting abducted in the background. The perks of being a content creator mean that Brian gets to have fun with even this side of his job, underlining just how passionate he is about making material that is playful, engages his audience, and stands out from the crowd.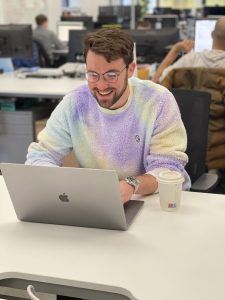 Irish economy
Indeed, while most of Brian's audience is based in the United States, he does cultivate his content to be as appealing, as educational, as informative, and as inclusive of diverse regions as possible. This drive to create the best content is certainly a key factor behind his continued success – and a couple of recent studies, one from Google and another from Oxford, boldly underlines just how the likes of Brian and his fellow Irish YouTubers are having a directly positive impact on the economy. The former of these studies indicated that YouTube contributes to 1,600 Irish jobs, contributing €30m to GDP, but is there more to those figures?
"For what it's worth, I don't think those numbers are right – I think it's much higher," Brian explains.
"People like Jacksepticeye, alone, is making more than €30m a year, but he lives in Britain so I'm not sure exactly how they're measuring all of that."
It's a testament to the growth of the Irish content creation scene, where entrepreneurially minded professionals are making viral content that appears in many guises. And does Brian believe that Irish Youtube content creators can reach even loftier heights?
"I think if more Irish people were willing to put themselves out there, we could be, because we've historically punched above their weight in cultural stuff – I don't even know if [the Google study] is counting musicians like Hozier in their calculations, I'm not sure. I think Irish people have a stigma against looking for attention online, but there are ways to do it in non-cringey ways."
Next chapter?
Brian's Real Engineering channel was the first one he launched, and it gained traction pretty quickly, ensuring that Brian didn't need to return to the 9-5 circuit. The next channel launched – Real Science – has become enormously popular, too, with over 747,000 subscribers already. Many of their videos, including their 'The Insane Biology of' series, garner over a million views apiece, and since Jun 2019, the channel has attracted almost 44 million views in total. Stephanie Sammann is the host, narrator, editor, and producer of this channel, and she has certainly made light work of attracting a dedicated audience.
And that's not all. Plans are afoot to add another channel to the 'Real' family, as Brian explains.
"We are looking to start another channel in the next year or two, and it's just a case of finding producers capable of handling it because scaling is difficult because there's no college course for making YouTube videos. You kind of look towards the film industry; there are very few people who can do everything, like film, animate, write, and all that – and we need all of that. Every single one of our shows is handled by someone who can do everything, so that's difficult – the writing, in particular, is difficult. 

"We're just figuring out what the next thing is going to be."
Improvements and developments are an everyday part of the Real Engineering and Real Science stories, and the same can be said of the smart streaming service, Nebula, that Brian helped co-found together with dozens of fellow creators and Dave Wiskus. Already, the platform has 435,000 paying subscribers.
And while lots of positive change and growth is a positive for Brian and his audience, one thing that remains a constant is the draw of Galway. Although based in Texas – which is quickly becoming the new playground for tech experts to experiment and have fun – for Brian, there is always time for the City of Tribes, especially at the PorterShed.
"For me, the community here has always been really nice, even though I'm pretty quiet and keep to myself for the most part. I have a co-working space in Austin, Texas, and the co-working space there is completely different; very segregated, no-one really talks to each other, whereas [the PorterShed] offers a nice way to come in and separate my work and life," he says.
Undoubtedly, Brian is the definition of an entrepreneur. Having struck out on his own, he has now built a legacy that continues to grow today, and he has made new strides with Nebula, too. A testament to what can be achieved when you reach for your goals, Brian has also been diligent in his efforts to succeed by creating high-quality content that filled a gap in the market – and the real results speak for themselves.
By Trevor Murray
Content Marketing Specialist at the PorterShed
Email: trevor@portershed.com | LinkedIn | Twitter