The NDRC pre-accelerator "is designed for pre-seed startups that are serious about achieving impactful customer proof points and applying to an accelerator programme within 3 – 6 months of completion." On Friday the 21st of July 2023, Nigel Moran, along with 3 transition year students, travelled up to Dogpatch Labs, the host of this prestigious Showcase Day where twenty-one of Ireland's "hottest new early stage startups" get exactly three minutes to pitch their business in front of a crowd of like-minded entrepreneurs and guests. This event celebrated the culmination of months of hard work and dedication by a group of ambitious startups that participated in NDRC's intensive pre-accelerator programme.
Dogpatch Labs is a renowned co-working space for startup tech companies, found right in the beating heart of Dublin's Digital Docklands. It aims to create and grow an environment that encourages innovation, entrepreneurship, creativity, inclusion and collaboration. They achieve this in a very similar way to the Portershed, by fostering a welcoming atmosphere and offering flexible space, in order to meet the needs and wants of those who avail of the coworking space.
In 2020 Dogpatch Labs began to run the NDRC national accelerator programme, in partnership with regional innovation hubs, RDI Hub (Kerry), Republic of Work (Cork), and The Portershed (Galway). The pre-accelerator programme is a non-equity programme to give early-stage startups the necessary support at a crucial time in their startup journey. The pre-accelerator is just one of many early-stage supports delivered by the NDRC with other supports including Office Hours, Founder Weekend and Masterclasses.  Patrick Walsh, CEO of Dogpatch Labs has stated that "The NDRC mentorship-driven programmes are delivered by international experts who can guide and support globally ambitious entrepreneurs."
The NDRC's commitment to fostering innovation and nurturing talent continues to make a profound impact on the Irish startup ecosystem. With the support of programs like the Pre-Accelerator and Accelerator, promising startups are equipped with the tools and resources they need to succeed, further solidifying Ireland's position as a hub for technological advancement.
At the showcase day on Friday, twenty-one talented and ambitious entrepreneurs from the tech industry took the stage for precisely three minutes to pitch their businesses and demonstrate the potential of their ventures.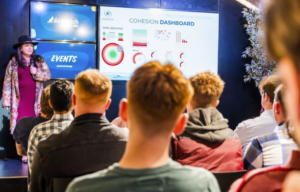 Cohesion – One of the many companies pitching 
The atmosphere was charged with anticipation as entrepreneurs, investors, and tech enthusiasts gathered at Dogpatch Labs for the NDRC Showcase Day. An exhilarating event. It was a privilege to hear some of the pitches from the incredible startups that were presented to us on Friday. The entire Portershed team were blown away and thoroughly impressed by the careful thought, consideration and planning each team put into their pitch. Each presenter shared how they had been confronted with some problem in their lives and explained why and how they wanted to make a change. Each of the speakers decided passion and unwavering devotion to their business at such an early stage in their startup was awe-inspiring. 
Something positive about these pitches that one couldn't help but notice was the emphasis many of these companies had on helping the environment and how the founders were striving to make a positive impact on the world, amidst the crisis of climate change that is currently having colossal impacts on communities all over the globe.
One standout start-up was 'Bold Donut', an Irish company that aims to help "sustainability professionals to engage their stakeholders in sustainability and influence behaviour change at scale through fun and engaging digital games." Implementing sustainable behaviours and systems in the workplace, at home, and within education is of paramount importance in this day and age. Founders Kate Williams and Nathan Cruz Coulson are truly revolutionising the way in which people can be educated to utilise and prioritise sustainable practices and they're making education more available, more accessible, and more fun than ever before!
'E-shared' was another startup that endeavours to make the world a better place. They do this by encouraging and incentivising people to use electric cars and to more efficiently use their charging points. E-Shared allows people to "access members' EV chargers while making passive income from your own charging point." The business was launched in 2023 and their mission is "to ease the transition to a green economy." E-Shared is promoting the widespread adoption of electric vehicles, reducing carbon emissions, and contributing to a cleaner, greener future for urban areas.
Another startup that struck us as 'one to watch' was 'ScriptForms'. Something hugely interesting about this startup, in particular, was that one of the founders, Diana Hrisovescu, started off this company in January 2020 when she was merely 16 years old. Diana is an inspiration to many and her success to date, proves the rewards and payoffs of hard work, dedication and determination.  ScriptForms' helps immigrants, refugees and asylum seekers access their entitlements in their native language. They strive to "create a more equal, supportive and language inclusive world for people experiencing communication and information barriers". They achieve this by "preventing application processing delays due to miscommunication and/or language misunderstanding." They aim "to be the most inclusive service for immigrants, refugees and asylum seekers in Ireland and abroad in their native language." The work that they do is commendable and is needed now more than ever during the refugee crisis and with the sheer number of immigrants, refugees and asylum seekers living in extreme uncertainty.
As we bid farewell to the first-ever in-person NDRC pre-accelerator showcase day, there is no doubt that the future looks bright for the entrepreneurs and startups that passed through the doors of Dogpatch Labs and the NDRC pre-accelerator programme. The excitement in the air was tangible throughout the presentations, and it is evident that the impressive pitches from 'BoldDonut', 'E-Shared', 'Scriptforms' and myriad of other startups left a lasting impression on the audience. These entrepreneurs are not only solving real-world problems but also shaping the future of various industries.
As their innovative ideas take flight, we eagerly anticipate the transformative changes they will bring to industries, society, and the world at large.
By Aisling O'Brien