It's been a busy month at the PorterShed. We've moved into our new premises at Bowling Green, we've welcomed new members to the community, and we were the first regional hub to host First Fridays this year. We've already celebrated a few other events, too – International Women's Day among them. 
Unofficially, this was our first event at our new premises – aside from the grand opening and Finbar McHugh's art unveiling – and it was fantastic to have so many amazing women in attendance for a morning of conversation and celebration.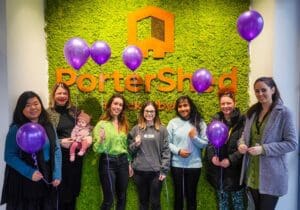 Many of our brilliant members turned out to mark the occasion at our brand new building, and it was great to see so many friendly faces getting into the spirit of championing women and their successes.
Our very own Aoife arranged for delicious cupcakes to be delivered, and everybody enjoyed them throughout the morning (although they didn't last very long!) together with a few cups of freshly brewed tea and coffee.
We also had eye-catching purple balloons set up in the kitchen to let everyone know that the PorterShed is proud to champion equality, female leadership, and women's entrepreneurship.
Our friends from Genesys, Keltie, Diligent, and Globalization Partners, among others, dropped by the PorterShed at Bowling Green for International Women's Day, highlighting once again just how many amazing women and female leaders there are right across the Galway tech scene.
Up in our Eyre Square building, too, there was great excitement as everyone shared in the fun and celebrations.
It's particularly vital that we all, as a society and community, continue to be as inclusive as possible as we seek to usher in true equality. All we have to do is look at the figures from a recent TechIreland report that shows only 16 percent of indigenous tech start-ups are led by female founders, something that certainly needs to change.
It highlights, once again, that Ireland has a playing field that certainly needs levelling.
Certainly, change needs to happen, and International Women's Day provided yet another reminder that championing and celebrating women is one of the best ways to realize the change so many of us seek.
Our very own CEO Mary Rodgers puts it best, "It was a joy to see so many women coming together on International Women's Day, from all walks of life, and it was equally fantastic that so many of our wider community got into the spirit of the day. 
"But it is just one day. We should all be doing more every day to ensure that women are provided with the opportunities to succeed that everyone deserves. Our PorterShed community is strengthened by so many amazing women, and I love seeing their successes take shape – and we need more just like them."